AT OLD DOMINION SPEEDWAY, MANASSAS,VA.

SUNDAY: SEPT. 17,2000 GATES OPEN AT: 9:00AM RAIN DATE: OCT 1ST.

CUSTOM CAR,TRUCK, MOTORCYCLE & IMPORT SHOW ON THE OVAL TRACK

* THE GOODE REFRIGERATION: 4TH ANNUAL, SUPER PRO CHILL OUT

* C&C AUTO PERFORMANCE: 3RD ANNUAL, QUICK 16 DOORSLAMMERS

*JIM'S TRANSMISSION & JIM McKAY CHEVROLET, 3RD ANNUAL FOOTBRAKE

SHOOTOUT OVER $8500.00 UP FOR GRABS PLUS:

PRO STREET OUTLAW RACERS

: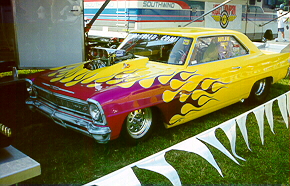 DAN MARROW FROM A/A SPEED IN WOODBRIDGE VA., IN HIS BLOWN, SB CHEVY II,

VS. RONNIE TWEETY FROM LYNCHBURG VA., IN HIS BLOWN BB, CORVETTE

OLD CARS, HIGH TECH RACERS

:
THE " KID", KEN WALSH, IN THE ORIGNIAL, SOFT SEAL 62 BUBBLE TOP VS.
"BIG G" GEORGE CAMERON" IN HIS SLAMMED 68 IMPALA
A STEP ON THE WIDE SIDE RACERS:
CRIS CARTER FROM C&C AUTOMOTIVE, IN HIS FORD POWERED EXP VS.
THE UNKNOWN RACER IN A SURPRIZE RIDE??????
YOU WON'T BE DISAPPOINTED WITH THESE MATCH RACES
ENTRY FEE ALL CLASSES= $50.00 BUYBACKS = $35.00
"NO CRY BABIES ALLOWED"